Hey, hey, it's DIY Friday! I want to share with you a project I made for a friend for her birthday that just passed.  I think with all the craziness that has been my life for the past few years, I've sort of lost touch with giving meaningful gifts to my dear friends.  I don't know where I'd be emotionally without the help and support of all my girlfriends.  One of my resolutions is to focus on paying more attention to them and giving gifts from the heart and reflect who they are.
This one particular friend is a mom of 2 under 2 y/o, and if you're familiar with taking care of one rambunctious and energetic kids, she's totally got a handful!  Especially working hard with providing breastmilk, getting them on a sleep schedule, tending to their needs all day and just really focusing on giving them the best care she can provide to them, she has very little time to herself and more importantly, very little time for rest.  And that's why she's always cranky! (LOL, she's gonna love that one.)  But what she always had, and what we all love about her, is her candid sarcasm and her without fail sense of humor.  So when I came across this quote, I laughed and specifically thought of her.  I decided to make a sign for her to hang up on the wall in her home, hoping that it will bring a smile to her face every time she passes it.  And here it is: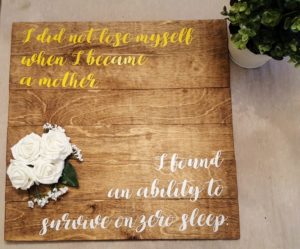 It was a super easy project to do and here's what you'll need:
1/4″ thickness birch wood.  I purchased a 2'x4′ sheet from Home Depot and had the gentleman there cut it down to 3h"x18″w size for me.  I had him cut out 6 pieces because I wanted to sign the be about 18″hx18″w overall when put together.  And one more piece (roughly about 8″x16″) that will keep all the panels together.  The whole 2'x4′ sheet was about $13.
Stain (I used Minwax in Dark Walnut, about $7.77)
Cloth to stain (I used an old cloth hand towel that was laying around)
Wood Glue (I used Elmers Carpenter's wood glue)
Small sawtooth hangers
Sandpaper (I used 200 grit and 1000 grit to get a really smooth finish)
Cut vinyl (which I got from Fastsigns North Attleboro)
Fake flowers
Glue gun
Once you have your panels cut from Home Depot, line them up next to each other.  Make sure you get them as flushed as possible.  You can definitely skip this part and just get a 18″x18″ whole piece but I wanted a little bit of texture to the look so that's why I decided to do panels. Lay them all together to make sure you like how the grain of the wood go together.  Then use the other piece that is cut just in between the total 18×18″ so that will hold all your 3″x18″ pieces together and lay it on top of the panels.
You can mark where you place the back panel but I like to live dangerously and eyeball it (#teameyeballit haha!).  Start laying glue in between the lines and far enough where the glue will not seep through the panels in the front.  If it does, it's OK, you can just sand it off later.  Wipe off any excess glue on the sides.  I recommend doing all this on a nice flat surface with newspaper underneath…I totally got glue on my tablecloth. That's why we can't have nice things…
Once you've cleaned off all the glue, have it lay somewhere to dry.  It sat there for a couple days because I had a busy weekend so by the time I got back to it, it was nice and sturdy.  Now it was time to sand it all down and get it nice and smooth.  Since my glue spilled over to the front a little, I had to spend some time really sanding the glue off.  I didn't get it all but it was good enough for me.  You barely notice it.  I just put a little bit more stain on those specific spots to make it as dark as the rest.  Just go in with your cloth, dip into the can and slowly spread it out and wipe off.  Don't forget the sides.  I just did one layer of stain but you can definitely do more and get a darker, richer look.
And of course I didn't take a photo of after I stained it…sorry!  I gave it a day to dry and was ready to put on the vinyl.  I had them set it up for me so all I had to do was just apply and go. Be care when removing the transfer tape because the wood doesn't stick to the vinyl as good as it would on a more flat and finished surface.  Next time, I think I'm going to try painting the words on with a vinyl stencil.  Then I turned it over and added the sawtooth hanger in the back so it can be hung.
After that, I got my flowers, played around with it to see where I want to put it and settled on the left bottom corner.  I used a glue gun to put the flowers in place.  I really liked how it came out!  I can't wait to make more of these!  My friend opened it and chuckled when she read it, it was exactly the reaction I anticipated!  Here is the final product again:
I hope you all enjoyed this week's edition of #DIYFriday! So glad I'm doing this again!  Have a wonderful weekend!
Stay Lovely,
Jeap