Hello, peeps!  It's Friday, what what!!!  Ok, maybe I had a little too much coffee this morning!  But, it's because I'm so excited to share with you how my husband and I DIY'd one of my favorite projects so far, our buffet table/sideboard!  We were in need of a buffet that fit the rustic glam feel that I was going for in our dining room and I found so many that I loved at HomeGoods (don't you love that store??)…but I didn't want to spend $300 or more on it.  That's still actually a REALLY great price but I just didn't want to spend the money, haha! I've been all over Pinterest for the longest time, eyeing all the projects that others have done and I got so inspired from this photo by Ana White.  She is so amazing, she comes up with plans and builds all of these amazing furniture and projects.  And she's a single mom…what?!?  How inspirational is that?!  Here is the link to her project and plans.
Isn't it beautiful???  I love the fancy X on the ends, haha!  She does call for some pretty nifty tools, which I didn't have.  So I had to keep looking for something a little more simple.  Jennifer from Dear Lillie used Ana White's plans as well, but her steps got me thinking of what I can do to make it work for me.  She also did a wonderful job on hers!  Here is the link of what she did.
I liked that she took photos of the process because it gave me an idea of how I can build something similar without the fancy tools.  So after I wrote down my game plan and list, I took the hubs with me to Home Depot and we got our shopping on.  We like Home Depot because they typically cut the wood down to size for us without charging us, haha!
Based on the size of my dining room wall where it was going, I wanted the buffet table to be large enough for us to place serving dishes for parties, as well as storage for our pretty platters and wine glasses.  So the size I went with was 6'w x 20″d for the top x 31″h.  As for the middle and bottom shelves, they were going to be 12″d.  If you want to build your table the same size as mine, you can just go with this list and have the hardware store cut it to size for you.  We took a couple 2×4 home with us that weren't cut to size (like the support ones) because we weren't entirely sure it will all work out, haha.  So glad we did though because it wouldn't have fit.  Here are the materials and tools I used:
6 – 30″ length of 2×4 (legs)
4 – 28″ length of 2×4 (front and back supports)
2 – 72″ length of 1×10 (top)
2 – 66.5″ length of 1×12 (middle and bottom shelves)
5 – 11.25″ length of 2×4 (inside supports)
16 – "L" brackets
Power drill with phillips head and a pre-drill bit about the size of the screws, leveler, measuring tape, lots of black wood screws (2″-3″ lengths), sander, sand paper, stain, pencil, drop cloth or any old sheet
We wanted to keep the same "outline" as Ana White's plans.  Since we didn't have the tools to make pocket holes and such, you'll be able to see the screws and we were totally OK with that.  We definitely didn't have the money to buy all the tools just yet, lol.  Make sure all the wood that you buy are nice and straight though, that is soooo important.  We didn't know that at the time we built our dining room table and the top of our table is uneven, haha.  And before you get started building, please make sure you are working on a clean flat area with plenty of breathing room.  And don't forget your safety gear (safety glasses, respirator, gloves, etc)!  Have fun but remember, safety first!
Side note: If you do not know this already, the 2×4, 1×10, 1×12 (etc) is not their actual size.  For example, if you measure a 2×4, it's actually 1.5 x 3.5.  Why? I have no idea!  I used (2) 1×10 pieces for the top of the table side by side and instead of getting 20″ in depth, I got 18.5″. So keep that in mind when it comes to final measurements on all projects, haha!
So here we go with the plan!  It is hand drawn and I took a photo of it…lol!  That's as pretty fancy as I get, people!
First off, you want to build the front and back legs of the table (don't forget to sand out the rough edges after it's been cut before you get started!).  So you pretty much make a 2 big "E" with all (6) of your 30″L, (4) 28″L 2×4's and your "L" brackets.  Put the corners together and mark off where the holes are going for the "L" brackets so you can pre-drill it.  It makes it much easier to screw them in.  You want to try to get the brackets as centered as possible.  Once you finish with all the "L" brackets, you can see that it is a little flimsy.  So we grabbed some 3″ screws and screwed them in from the top into the sides and middle legs.  That helped make it more sturdier.  Don't screw the nails in too far or else your "E" is going to look like an "M", haha. If it still feels a little flimsy, that's OK.  Just make sure that when you have it standing on the ground, that it is leveled.
Once you have your two legs built, this is where you decide which of these will be the front of your buffet and which will be the back.  When you've decided, mark them with a pencil so you won't have to try to remember which is which.  Lay down the front legs, with the front facing the floor.  You will mark where the "L" brackets and support blocks will be going for the middle and bottom shelves.  What I did was take a measuring tape and from the top and I marked off at 14.75″ and 27″.  Since all the legs should be 30″L, they should all be at an even height.  ("Should" being the magic word…doesn't mean that it will work though but we will get back to this.)  We used the "L" brackets on just the ends of the middle and bottom shelves because we wanted to use the (5) 11.25″L 2×4's for the top and middle supports.  We felt that it would be much sturdier, which it was.  With the 2×4's, we lined them up to make sure they were flushed with the top of the legs, and that they were an even height with the brackets since the shelves will sit on them for support.  Once we had that, we just screwed in 3″ nails from underneath sideways into the legs.  We used 2 per side and sometimes 3 if we didn't feel like it went in far enough.
Next, we slid in the (2) 1×12 shelves.  LUCKY for us, they fit!!  Well, width-wise at least, haha!  Once those were in, we put the back on and screwed everything in.  Since it's the back which will be facing the wall, we just screwed them in from the side.  The only issue was that since one of the boards weren't straight, we have to move one of the "L" brackets up 1/4″ to account for the bend.  Fortunately it wasn't that big of a difference for anyone to notice, haha. We screwed the middle part of the shelves to the middle support blocks.  This made the structure super sturdy.  Just make sure the nail isn't sticking out in case you hit it with your wine glass or what not!  Once we were done with it, the "body" was pretty much all done.  When we stood it upright, we made sure that it was leveled, and luckily for us, it was!
So now we had to put on the top and make sure that is centered.  I just took one of the 1×10 and marked off where the middle of the board was.  I also marked off the middle of the body (where the center of the middle legs were) and just lined them up.  We then screwed the tops right into the frame from the top.  To make it looked decent, I eyeballed it to make sure the nails looked evenly space out.  We used the leveler again and made sure it was even, and it was.  We were so happy and gave each other a big high five (and maybe even a chest bump, haha).  I took our electric sander and sanded it down with 220 fine grit.
Now all we had to do was stain it and style it!  We used the same stain that was used for our dining room table.  I like that it matches, haha.  We decided to forego the "x" on the sides because I didn't want to deal with the hassle of cutting the angles perfectly right.  Shortcuts!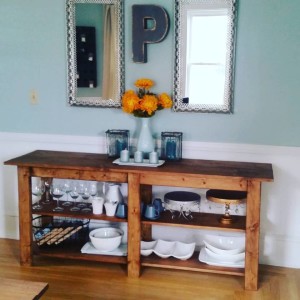 I couldn't be more happy with it!  We didn't use any crazy tools, although some day I hope I will learn and own them all!  And the best part is that we spent about $75! (not including the stain since we already had that)  Now I had a place to put our pretty platters and cake stands on display, which made more room in my cupboards.  It's also that feeling of accomplishment when you finish a project and say to yourself, "I did that!"  Just like the Minwax commercials, lol!!!  Anywho, I really think anyone can do this project.  I'm definitely no professional and I'm sure I did some things wrong that I don't even know about, but we now have a table that serves its purpose and beautiful to look at!  I don't know about you, but I've come across so many things in life and think, "Wow, that's way too expensive but I love how that looks." Or, "I can never afford that!"  And yes, there are quality things that definitely is worth the price!  But that doesn't mean you can't let it inspire you and for you to turn something into your own with whatever resources you have.  We are all capable of having creativity and making wonderful things!  On that high note, I'm going to bid you adieu until Tuesday!  I hope you all have a fabulous weekend and enjoy this wonderful weather that we're having!  Please let me know if you have any questions and I can't wait to hear your feedback on this project!  Take care!
Stay Lovely,
Jeap