Hi, you guys! It's the end of January and I'm just about done with winter!  I'm ready for warm weather, hanging outside with a good book, BBQ-ing and watching the kids play in their blow up pool.  I'm so looking forward to doing more outdoor projects once the weather warms up a little.  Until then, I will just have to look back at old photos of the summertime and just live in my memories for now!  Today, I want to share with you a project that I'm quite proud of.  I'm so NOT a landscaper and I've been trying the past couple years to get my lawn and curb appeal to be decent looking.  It does not have to be beautiful, JUST DECENT LOOKING!!! I worked really hard the first summer to get rid of a lot of the weeds, especially in the space that's right in front of my house.  To my dismay, the weeds grew back even more until I just gave up! I think for half a year, I just didn't look at the front of my house due to embarrassment.  What's even worse, Google Maps took a photo of our house when it was a hot mess! LOL, I had to laugh.
See all that dead brown "grass" in front of the house…those are all overgrown weeds.  Here is a close up of the ugliness…as well as better photos…
As you can imagine, I was THIIIIIS close to hiring a professional.  But, due to my frugality and stubbornness, I decided to try and tackle it just one more time.  So when the weather was warm enough in April, I started pulling out all the weeds, digging and removing old mulch, and trying to get rid of all the roots as much as I can, since after reading so many articles that said they are literally the "root of the problem". I wanted a nice simple look and so I moved 2 of the mini Christmas trees (I don't know the real name for them!) to the front and spaced them out. Here's what it looked like during the process: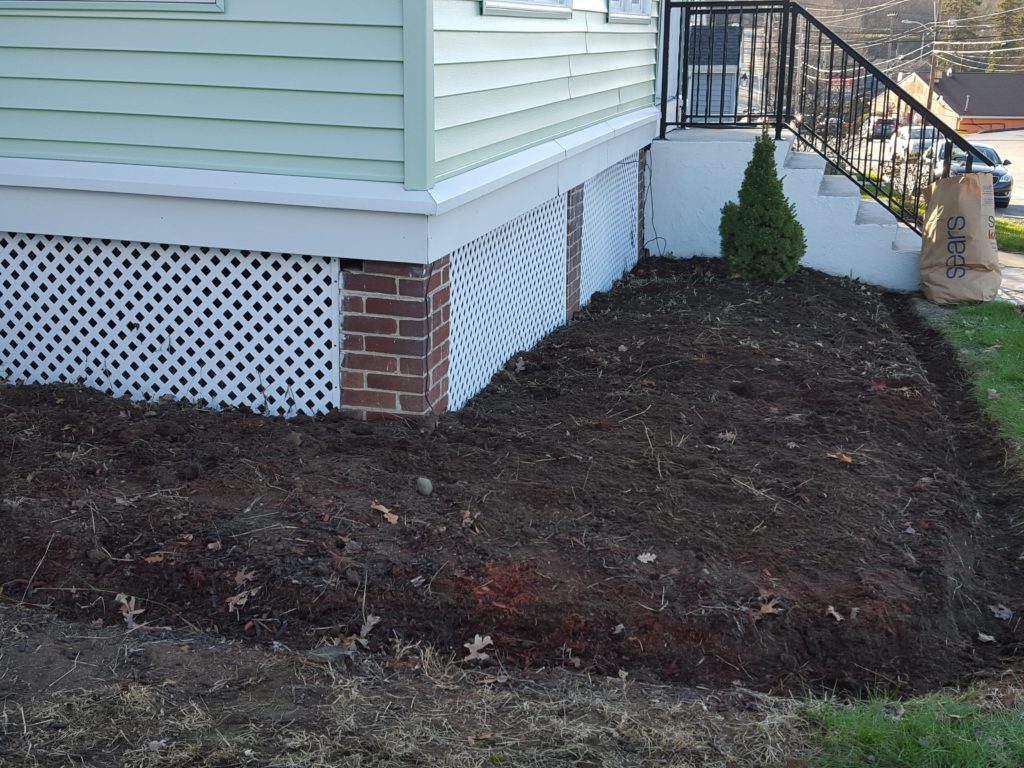 It was definitely back-breaking work.  Of course I was doing my research on how I wanted it to look like and saw some nice and simple landscaping ideas.  So I went to Home Depot and bought some retaining wall pavers, pebbles and sand to help level the pavers, and lots of landscaping fabric and pegs to hold it down.  If you are planning to do this, all the proper tools to do so.  I followed a loose version of this tutorial from Lowes.
Once every inch was covered with landscape fabric, I went ahead and covered it all with black mulch.  I didn't use as much as I should have but I'm planning to add more once the season gets warmer.  This was the satisfying result of all my hard work.  I was really (and still am!) proud!
Even with all this work, I STILL had some weeds grow over the summer so I had to go and pull them out, but at least I was able to keep it under control.  Now my house is not the embarrassment of the road anymore.  Here is what our house looked like during the summer, compared to what it used to look like.  Not too shabby, I think!
As you can see, we also did a few other updates.  I painted the fence white so now our front yard just "pops".  I painted the front door black and planted a whole bunch of flowers and hanging baskets.  Oh yeah, do you see that pergola? We built that, too! I'll have to update you guys on that another day!  Still much more to be done.  Another thing that needs to be figured out is getting our lawn to be green (which is HARD to do) and addressing that slope and front steps.  We're planning to dig out all the concrete and replace it with stone pavers and dig out all the grass on the slope and replace with mulch and add some small bushes and plants.  Keep coming back to see all our updates! Thanks for stopping by today!
Stay Lovely,
Jeap