I hope y'all are having a terrific Tuesday so far!  We had a very eventful weekend getting ready for my best friend's daughter's first birthday party!  The other Aunties and I put together the vision that our friend wanted for the party, a Minnie Mouse light pink, gold, polka-dots and chevron theme!  (Shout out to Aunties Dayna, Tee, Sophie, and Phet!) It was so cute and elegant at the same time, and of course, totally done on a tight budget!  We were able to reuse some stuff that my sister, Phet, used for her wedding.  The Minnie Mouse glitter heads were kind of a pain to do but they were so worth it in the end!  Here are some photos of the details for your viewing pleasure! The kids had such a blast!  Happy 1st Birthday, Olivia Rose!
And now, onward with Transformation Tuesday!  Do you know what kind of style your home is?  I adore Victorians,  farmhouse, colonial, and craftsman style homes!  After we had moved in for a few months, I finally found out that our house is a Center Hall Colonial.  It was one of my dreams to have a traditional home like this, although I didn't know the technical term for it, haha!  I love the stairs and that I can decorate it during the holidays.  And I can just picture our kids walking down those stairs while we take pictures of them during prom! (*tear*) For today, I'd like to share with you the changes we've done to the hallway so far.  I was finally able to do my wall collage that I've been wanting to do since forever this past weekend.  Here are a couple photos of what the hallway looked like before and I found a photo of Gen working on the floor.  That was the color of the pine underneath throughout the whole house before Gen sanded it down!  By the way, he also had help from my BF's husband with finishing the floor also.  Thanks, Raffy!
There's really nothing super special about a hallway, especially this one.  But ever since I saw this one photo on Pinterest from House of Turquoise Parade of Homes, I just couldn't get over how much I loved the colors and just how bright it was!  It just made me so happy looking at it!  I knew this is what I wanted our hallway to look like!  Isn't it beautiful???  I wish we had as much space and natural light coming in but we're gonna work with what we got, haha! And so this was the inspiration of our hallway.
 Then we got to working!  As you know, we sanded down the floor to the color of raw pine to keep it the same throughout the first floor and also to help keep that light and airy feel to the house.  The original color of the wall was a light blue, which was pretty but it just wasn't doing it for me.  I wanted a warmer, neutral color.  Can you believe I painted these hallway walls twice?  I was trying to be frugal and mixed some leftover paint that I had from our Master Bedroom with white paint, but it came out beige with a pink undertone, which I wasn't a fan of.  When I looked into the hallway from the living room, the colors just didn't mesh well.  We also have an upstairs hallway so yeah…make sure you love the color first if you're doing a big job, haha!  And so I went hunting for the right paint color on Pinterest and took home some chips and compared it to the rooms next to the hallway.  I finally settled on Winds Breath by Benjamin Moore and I am ecstatic with the result!  It's a light beige and it's so neutral, it goes with everything.  Here is the what the hallway looks like now:
Since the sun is setting behind our house at this time of year, I can't get a good photo with lots of lighting.  But still, I'm loving it so far!  We painted the door Robin's Egg Blue by Valspar and it just makes me smile every time I see it!  I loved it so much I decided to paint our back door the same color, haha.  It brings such a nice pop of color into our lives.
The painting to the left of the door I got at Christmas Tree Shop for about $20 if I remember correctly.  The gold little mirrors were $12.99 and the white wooden mirror was $29.99 at HomeGoods!  All total steals!  We also put a flushmount chandelier in here to fancy it up a bit.  And that grey moroccan pattern curtains at the top of the stairs? $8 at CTS! But my favorite part is the photo collage and vinyl quote I got from FastSigns in North Attleboro!  (Thanks again, Joe!)  This is probably the corniest thing you'll read today but that line is from a 90's song called "I Swear" by All-4-One.  I always think back to the moment that song was on in the car and I was with Gen.  We were together for maybe a year or two at that point.  I just remember him singing that part to me "I'll build your dreams with these two hands…we'll hang some memories on the walls" and I just knew, that he REALLY meant it.  It still brings tears to my eyes just thinking about it, but it's so sappy, lol!  Anyway, ever since then, I wanted to put those lyrics up around a collage in our own home.  It's so great looking at the photos each day, and having a reminder at how blessed we are to have the memories that we do.  The frames I got at Michaels and I wanted to make it all look like one big piece so I picked out the same frames in 2 different sizes.  I got a really good deal on them, only $5 each!  You just have to make sure you keep your eye out on those sales!
And here is how I put up the photo collage.  This is a great technique for any type of collage you want to create as well.  I saw some different ways to of putting up photos and I just married them together to get this project done.  Less measuring and leveling to do, which is how I like to do it!  Of course you have your blank wall, your photos in picture frames, and your materials.  I used a hammer, nails, masking tape, scotch tape, newspaper, measuring tape, pencil, scissors, vinyl quote, squeegee/credit card/ID, and a ruler, in my case a leveler.  I wish I was able to use the leveler for what it was intended for but I found out my wall was not flat/even, haha.  That's what happens when you have a house that's over 100 years old!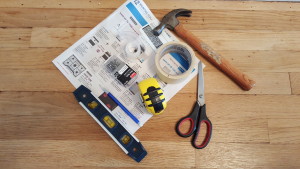 If you can see the straight line made of masking tape on the stairway wall, the height is at 44″ from the trim.  I felt like this was a good line-of-sight height for us.  That line was going to be my anchor to make sure the whole collage will be spaced evenly.  I knew I wanted the lyrics to be staggered so I cut them into two lines and eye-balled the middle of the wall and spaced them out.  Then I made a template of each picture frame from newspaper so I can get a visualization of what the overall collage would look like.  Based on the frames I had, I wanted 3 on top, 2 in the middle, and 3 at the bottom.  I taped them up and definitely had to play around with it for a while until I was sure I loved where everything was going to be.
Make sure you mark off which photo is going where, in case you forget.  Write it on the back or on a piece of masking tape and tape it on the frame.  Once I decided where I wanted everything to be, I started with the top frame template and placed it over the back of the photo that was going there.  With the "back" of the newspaper facing up and lined up with the frame, I felt for the hook and poked a hole where the nail was going.  Then I taped the template back up on the wall to the height I wanted it to be hung (about 2.5-3″ above the 2nd row).  I wanted the vinyl letters and frames to all be about 2.5 – 3″ spaced from each other.  So now all I had to do was drive in the nail where I poked the hole.  I went ahead and did the same thing with the 2 frames below the top frame.  To make sure the height of the frames will be the same side by side, I took the ruler and made a line so I knew where to line the frame up to.  After you hammer the nail down, just erase the line.  It should look something like this when you're done.
Continue doing the same thing to all the frames until you're done.  Once you have all the nails down, you can pull off the templates and the masking tape.  It should look something like this:
Notice our little model Evey? Whenever she sees me pull out a camera, she just goes and says, "Cheeeeeese!"  Although 70% of the time she doesn't even look at the camera, haha!  Now it's time to lay down the vinyl letters onto the wall.  Start off from one side.  I'm right handed so I taped down the left side of the vinyl securely, removed the backing paper from the right side, cut it off, then slowly squeegee'd the vinyl down and pressed down hard to work out the air bubbles.  I recommend going in at an angle.  Once that side is done, remove the tape on the other side and do the same thing.  Then you can peel off the transfer tape slowly, making sure the vinyl is adhering to the wall.  Here is a video of another method of installing vinyl wall graphics.
Once you have your vinyl down, it's time to put up all the frames!  Just remember which goes where! Haha!  I forgot to mark off my frames but fortunately I had the photos to look back on to see what size frames goes where.  Because when all you  have are nails, you just can't tell!  Here is the final product again.  I think it's Evey approved!
I still want to paint the hand rail black, and next year, remove the carpet and re-finish the stairs.  We're hoping they're still in good condition!  I'm still keeping my eye out on the right runner within the right price range for the bottom of the stairs, and I want to add a little shelf right underneath the white wooden mirror so we can add some decorative knick-knacks.  As always, I will keep you all updated with the changes!
So what do you guys think?  Am I corny or what?  LOL!  I know I'm a total dork and that's totally OK with me.  We definitely have made some wonderful memories so far…I am looking forward to making many more with my family and friends!  And I think making a wall collage as a grouping like this helps you make a statement out of your memories.  It's inexpensive wall art and intimate to boot!  I hope you guys enjoyed this week's transformation.  I'm getting excited for the holiday decor that will be going up soon.  I'm planning to make a wooden sign that I've been dying to do ever since I laid eyes on it.  I hope I can make it happen this week and share it with you for Friday. Until then, my loves!
Stay lovely,
Jeap