I can't believe I'm having a niece (my first one)!  She will be here soon and we're anxiously anticipating her arrival! Last weekend we had a lovely Jack & Jill baby shower in honor of her.  I had so much fun planning out all the details and hosting the event.  My sister didn't want the typical girly colors for the shower and wanted it to look neutral and mature.  So as I was looking around, I was inspired by a photo I saw on #Pinterest and all these ideas just started flooding in after I saw it.  Here is the inspiration photo: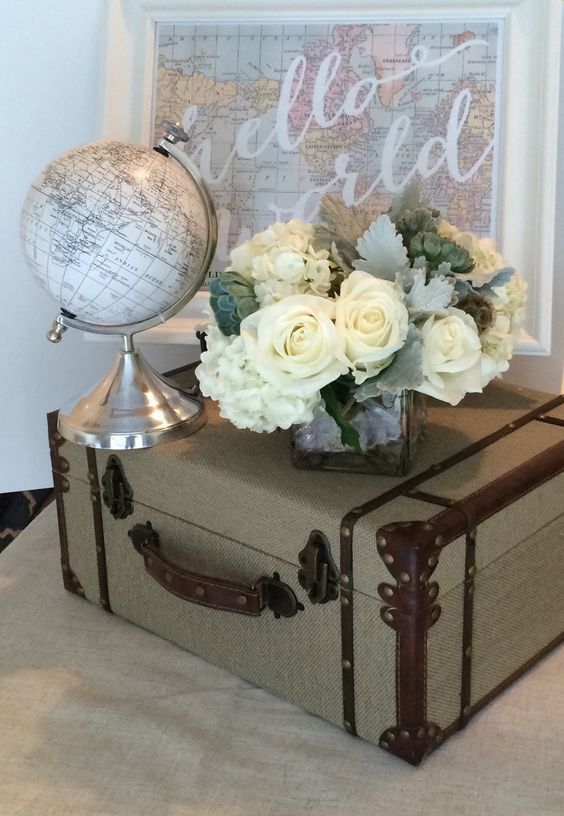 What was really cool about this event was we were able to use a lot of things we already had.  We borrowed a globe from my older sister, which my late uncle found at a flea market for $5.  Picture frames we already had, just needed to add a couple details to make it fit into our theme.  I had a suitcase and we bought a smaller one to hold the gift cards.  The venue had a lot of natural elements to the room, and all we really needed was to jazz it up with lots of greenery.  I really wanted silver dollar eucalyptus leaves to decorate with but unfortunately could not get any quality ones on the day of, so I opted for these Israeli ruscus fillers, which happened to be less expensive.  Here are the photos of the event: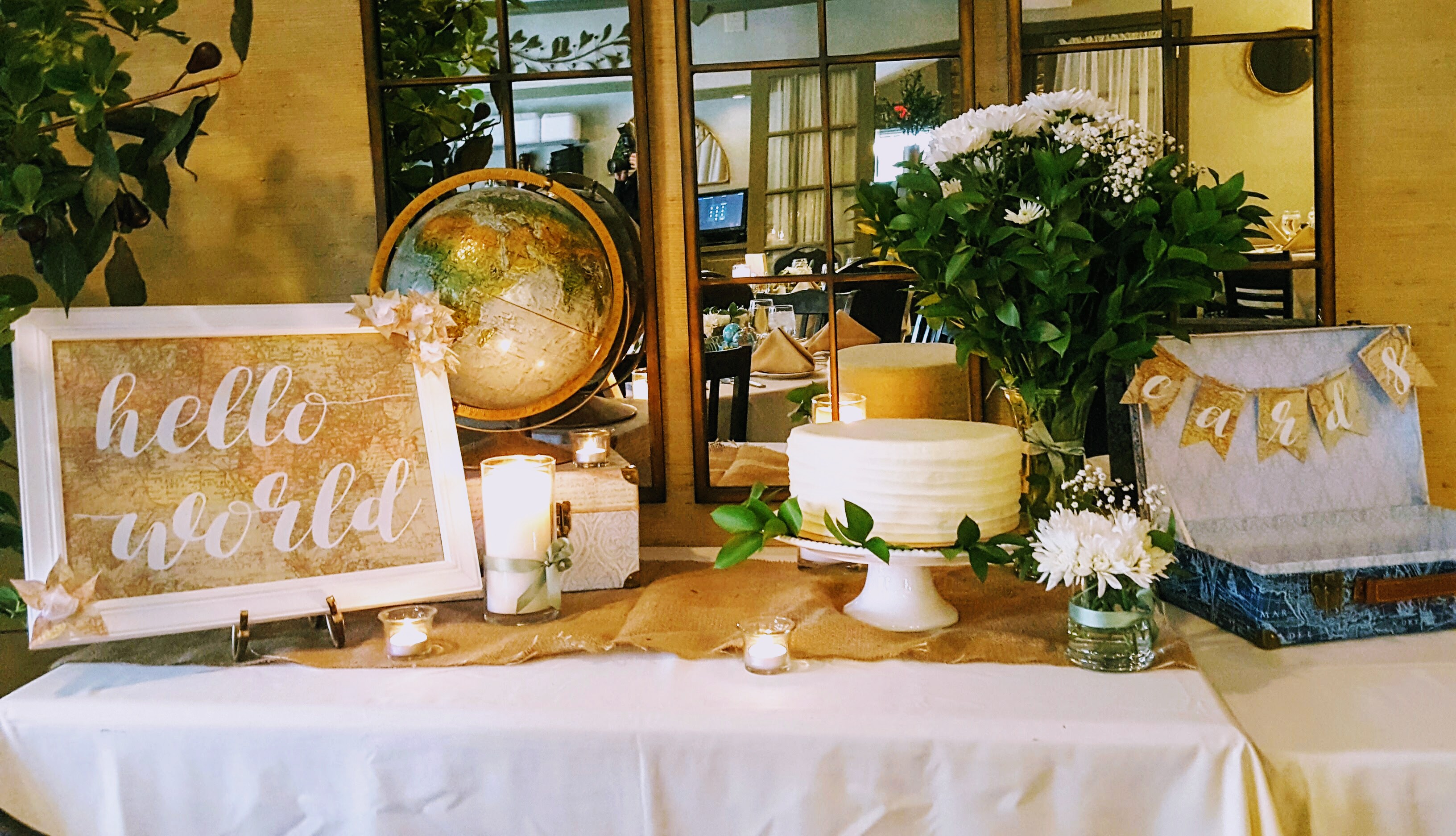 I loved how everything just seemed to go together, with all the gold and bronze touches to all the natural elements in the room, even the wallpaper seemed to match our theme!  We kept the decor pretty simple and all the white from the cake, flowers and signs just stood out so nicely.
For the centerpieces, I made these "Oh the places you'll go" signs with some wood that I already had and got vinyl from my friends at FastSigns North Attleboro.  And then I cut out petals from this map ledger from Jo-ann that I used for all the paper signs and made flowers out of them.  I thought that Dr. Seuss quote fit perfectly into our theme.  I also found these awesome globe stress balls at Oriental Trading that doubled as party favors.  And I covered books to look like mini suitcases (tutorial here) to set the signs atop to give it a little height.  I also cut some burlap that I already had to place everything on.  Adding some flowers, leaves and candles just pulled everything together.  It's always nice to see what I envision in my head come to life!
We kept the guests busy with a few games.  I had this Ikea chalkboard that we used to showcase what games we were playing and just added some flowers and greenery.  I'm a bit embarrassed by all the grammar errors though, haha! I guess I was rushing to finish, I didn't spellcheck!  Even so, everyone had a good time and was super competitive, which made it more fun!
And it wouldn't be a proper event without a backdrop to take photos with!  We brought our curtains from home and used it for the backdrop and I made a sign out of the map ledger to say "hello baby".  We decided not to add the baby's name to the sign because the parents wanted to keep that as a surprise once she comes!  And I made the parents-to-be signs for their chairs, just to add that something special for them.


We received so many compliments on the decor and everyone had a fabulous time.  I am super grateful that my sister let me run wild with all my ideas.  I came under budget and over expectations, which is always a good thing!  Thanks for stopping by to take a look!  Let me know what your thoughts are about the event in the comments!


Stay Lovely,
Jeap