Welcome back to #TransformationTuesday, friends!  It's finally November and the holidays are now going to be in full swing soon.  I'm looking forward to all the projects and decorations I have planned and can't wait to get into the holiday spirit!  Of course, this is the children's favorite time of year, but I think Thanksgiving is more of a "grown up" holiday, while Christmas is the "kids" holiday, haha.  Are there certain traditions you keep with your family each year?  Our group of friends usually do a potluck and we usually take turns hosting.  This year, I'll be hosting Thanksgiving so I want to make sure I get some of my projects done for that day.  But you know how some things just seem to look better on paper?  Lol, well, I hope it works out because some of my ideas tend to be harder to make happen in real life.
Since it's been getting colder, it was time to start packing away all the summer clothes for the kids.  Although today, it's supposed to reach up to 68 degrees so…welcome to New England! (Speaking of NE, how 'bout them Patriots?! Sorry, had to throw that in there, ahaha!)  I think keeping up with my kids' clothes is the hardest part about keeping their room clean.  And I definitely get teary-eyed when their clothes are too small and I have to put it in the donation pile… :*( They grow up too fast!  Do your children ever get into that awkward size that one size is too small and the next size up is too big?  It happens ALL the time with Prestyn!  So I tried organizing most of their stuff and figured it would be a good time to reveal their room.  Here is a photo of what the room looked like when we first saw it before we bought the house: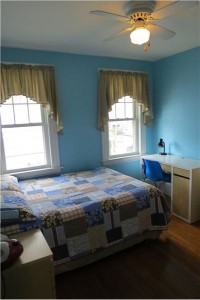 I'll add more photos to it when I am able to get them out of my old phone…lol.  We were very happy that we didn't have to do much to the floors for any of the upstairs rooms.  Just paint and we were good to go.  But as you can see, it's a teeny, tiny room.  The challenges were that I had to fit 2 kids into this very small room (about 10′ x 9 1/2′), and there is no closet.  Here's how I did it.  First of, we needed to get a bunk bed that was sized appropriately for the room.  We had a bunk bed from our previous home but it was too tall and too big.  Here is a photo of the old bunkbed…and a couple photos of some things I did in their old room in case you wanted to steal some ideas, haha.
So we sold that old white one and got a new one.  As for the "no closet" situation, I saw something on Pinterest that got me thinking and came up with a solution for a makeshift closet.  And so we headed to Ikea!  That place really is the best!  Here is what the room looks like now:
The scale of the bunk bed really helped in making the room feel spacious.  So if you ever feel that it's so crowded in a room, it's most likely because the furniture is too big for the space.  As for the "closet", all we did was get a shelf, 2 towel bars, 3 shelf brackets and we were able to hang the kids' clothes!  It was so easy and worked out really well, and was less than $35 to do.  Just make sure you nail the shelf into studs!  If not and if it gets too heavy, the whole shelf will rip out of the wall, haha!  That would be no bueno.  The bookcase below the shelf is for their books and clothes in the white bins.
I decided to go with a unisex color scheme, polka dots for the girly side and dark furniture and textile for the masculine side.  The paint color is Palladian Blue by Benjamin Moore.  I loooove it so much I also painted our upstairs bathroom and porch this color.  I got their bedding, curtains, and rug all at Ikea as well.  I was able to go on a shopping spree for their room last Christmas because all the aunties chipped in as a gift for the kids.  Thank you Auntie Pong, Jeip, Koy, Pisey and Grandma!  I'm so thankful!  And what I absolutely love most about the room is the gold confetti wall!  I had FastSigns cut out 3″ round dots for me out of gold vinyl (about 250 of them) and just went crazy with it.  I even had Evey help me out with putting them on where she can reach, haha.  And you just gotta showcase their artwork from school!
In another corner is their TV to play their games and a place to keep it organized.  Evey and Prestyn don't really play much in their room.  The TV is used for Daddy, Uncle Pedro, or their cousins to play when they come over for the most part, haha!  I still need to figure out what to do to "finish the look" off on this corner but I definitely want to keep that simple and fresh look to the room.  Less things means less clutter, especially with kids!
And here are the rest of the photos of the room.  Can you tell my kids love My Little Pony?
Here is the list of things we got for the room:
Storage box (They had these in white at the store for $4.99 each)
It does not look like they sell the grey/white polka dot bedding set anymore.
And that's all folks!  I'll keep you posted on anything new I add to the room.  What did you think about this transformation?  How do you keep your kids' room organized?  And what do you do with the overflow of clothes?  Do you get teary-eyed like me when your kiddos grow out of theirs? I'm hoping this room will last them a few more years until I have to separate them.  By then, I want to have the basement finished so Prestyn can have a room down there.  He'll be a teenager by then…oh my god, I don't even want to think about it!  Let's just stop right now, haha.  I hope you have a fabulous week and can't wait to share with you the buffet side table for DIY Friday!  Take care!
Stay lovely,
Jeap