Howdy, everyone!  Thank you for stopping by!  It's been so cold this week, I'm freezing my tush off whenever I go outside!  Winter is finally here…womp womp.  I'm supposed to do outdoor decorations this week and I have no idea how I'm going to do it with this weather.  I hope it warms up a little!  Have you started on your holiday decor outdoors yet?  I love driving past by people's homes and seeing all the festive decorations; it always brings a smile to my face.  I'm hoping now that we have our own home and decorations, we can bring a smile to others as well!  But I need to buy just a tad more wreaths and garlands so I wanted to wait until Black Friday to buy all of that, haha!  Since I can't show you the outdoor decor just yet, I'd like to share with you the changes we've done to our master bedroom!
I think one of the major points that got us sold on this house was the size of the master bedroom, and two separate closets.  For an older home, the closets were really big and we really liked the layout.  Of course if we had a master suite, that would have been "suite-er" (see what I did there? hehe) but we knew that was not a reality for us.  I definitely have come up with plans in my head to make room for an en-suite but until we have the budget for it, this will have to do for now, haha.  Actually, I'd personally would like to make the attic our Master bedroom and en-suite like this one from Candice Olsen!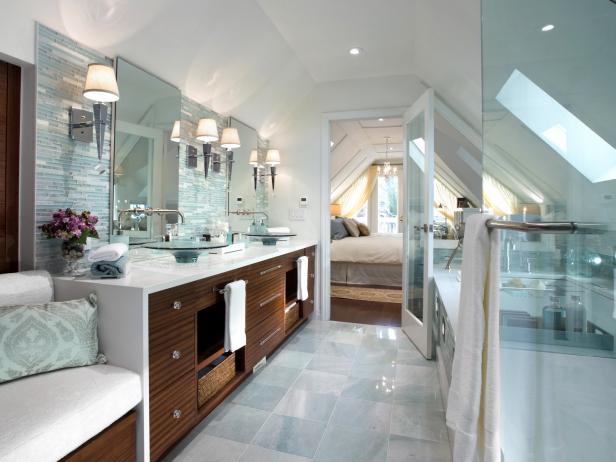 Drool!  Yeah, I would be totally happy with that! Ok, coming back down to Earth now…haha.  Here are photos of our bedroom when we bought the house and how the old homeowners had it:
Of course the mustard walls had to go (it looks orange in the first two photos)…so we changed it to a blue-grey.  And then I added a navy accent wall.  But for some reason, I just wasn't quite feeling the colors.  The room is really dark because it's a South/Southeast facing house.  We only get good light in the mornings.  And we have awnings covering our windows, which isn't helping.  It's been on my husband's to-do list since we moved in to take them off but they're still up.  It has something to do with him being afraid of heights but that shouldn't stop him, right?! Lol…I always say I'm going to end up doing it myself.  Hopefully we'll get them down by next summer.  Back to my story about painting…Oh yes, so I started hunting on Pinterest again to find some new inspiration.  I saw this photo and was smitten with it!  It seemed so simple and easy to replicate, and of course I wanted to put my own spin on it.
I liked the dark, cozy and romantic vibes I was getting from the photo.  So first, I had to find the right paint color.  I settled on Shenandoah Taupe from Benjamin Moore.  Here are a couple photos that got me hooked, and it's also one of Sabrina Soto's go-to colors as well:
I've definitely become a bit of a painter since moving here.  I don't even use tape anymore, unless I have to paint stripes or around hinges and door knobs, haha.  I think because color changes everything so fast and it's pretty much the cheapest thing to do to get the biggest bang for your buck, I always decide to change the wall colors first.  Once painted, I wanted to do an accent wall so I decided to paint stripes behind where our headboard was going.  Up until this morning, we had gold stripes on the wall.  I literally just painted the cream stripes this morning, lol!  The gold clashed but I thought maybe I'll fall in love with it eventually. I didn't and that's why I've been itching to change the room, AGAIN!  Since we now have cream stripes (which I used a color we already had; BM Revere Pewter), we may be keeping our MB this way for a little while longer.  It just doesn't scream "rustic glam" the way I want it to but it will do for now!  Anyway, here are the photos of our bedroom:
I like how it's really clean…for now, lol!  I always have to do a mad dash to clean the room before a reveal, because of course I want to put our best foot forward!  For the most part, the room looks like this…and then add a couple more laundry baskets and things scattered on the dresser and nightstands.  I know that once our budget allows it, I want to get recessed lighting and a nice chandelier to replace that ceiling fan that we currently have, haha.  And a new bed with night stands!
Most of the items we got at Ikea – surprise, surprise!  I actually got those dressers when they were having a sale for 15% off! (Links to products below.)  That mirror and chandelier painting we got from HomeGoods, (mirror $30, painting was a splurge at $50 but I loved it!) and we made our headboard ourselves with some plywood we found in our basement.  All I had to to get that made was grab was batting, nail-head trim, a drop cloth and a staple gun.  I wanted a taller headboard but then we would have to spend money on a taller piece of plywood…so I went with free instead, lol.  And with the remainder of those materials, I covered some canvas frames and made the "G" and "J" signs over my dresser.  Our bedding set we got from Wayfair.com.  We warmed up our feet in the morning with some faux sheepskin rugs.
Now that I see that cream colored stripes, I really like it!  We'll see when I start itching to change the room again, haha!  We have that one big wall that I want to build a shelf or "mantle" that I've seen plans for from Shanty2Chic.  Or add a photo collage with a vinyl text.  Of course I will keep you guys posted on the changes!  Here are a couple more photos for you guys to see!
Do you think I nailed it on the cozy and romantic look?  Let me know in the comments below!  With Thanksgiving coming up this week, I hope you have a safe and wonderful holiday spent with your family and friends.  Just remember that it's not happy people who are thankful, it's thankful people who are happy.  I'm thankful for a blessed year, good health for my family and friends and everything we could possibly need (food, shelter, and love).
Stay lovely,
Jeap
Products: