Hi friends! So a few weeks ago when I was picking up some materials for the "Home Sweet Home" signs I made for a realtor friend, I saw this 2×4 black chalkboard panel for only $9.99 at the Home Depot!  I don't know why it says they are not sold in store and why they're priced at $14.97 online but I had to get it that day since there's SO much I felt like I can do with it.  I'm pretty sure I'm going back to buy some more!
For my office, I wanted to do a checklist of all the outdoor projects I'd like to get done this Spring/Summer. I have it all printed on a piece of paper hanging on my wall but I want to look at something a little more inspiring than that, haha. At first, I was going to build a wooden frame around the chalkboard because I've seen that so many times and I just love it.  Or, since I had a big gold picture frame, I was going to just cut the chalkboard to size to fit the frame and keep it like that.  Both are such cute ideas and I found some pictures on Google images for you to see.
I might still do the one in the picture frame but I will have to do that on another day.  For this project, I wanted to do something a little different, so I was going to look for some pretty flowers and hot glue it directly to the edge of the frame.  That's going to make it look so pretty!  But I saw these 6′ boxwood garlands on sale online (they were $9.99 at the time of purchase) when I was shopping for my friend's bedroom on www.hobbylobby.com and figured I could just use them for the time being.  And wow, I just loved how it came out!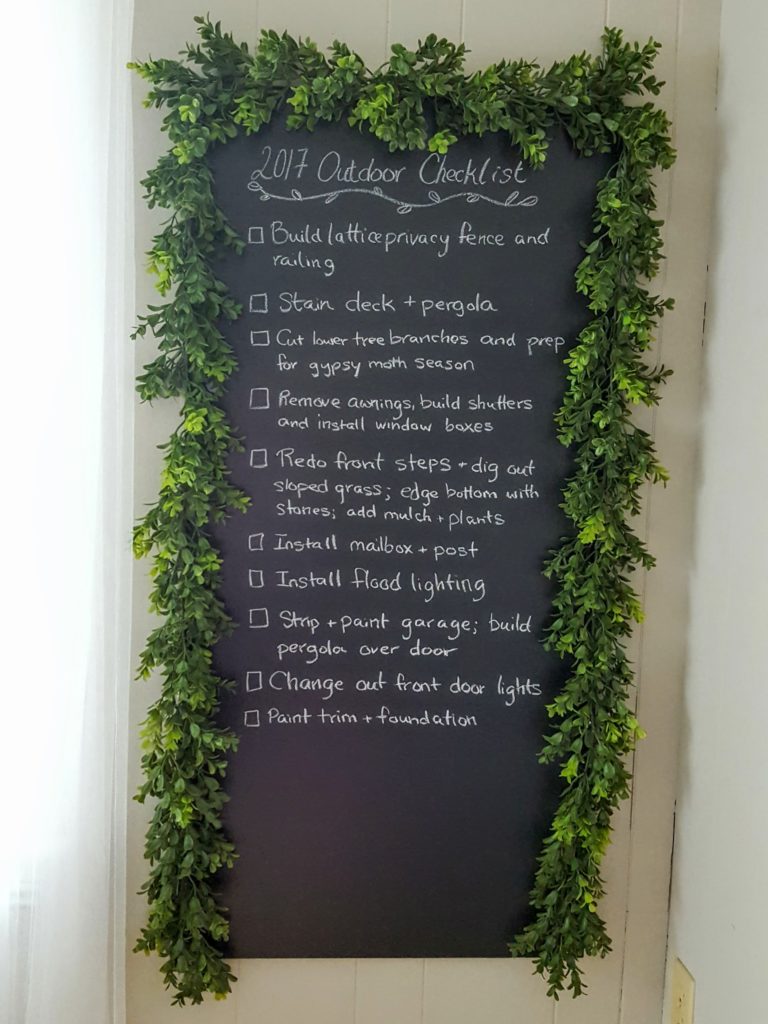 To hang the chalkboard, I just grabbed a couple sawtooth hangers and nailed them to the top 2 corners in the back. Make sure you get a shallow nail so that it doesn't go through the front of the chalkboard.  In my case, I just took some wire cutters and cut the nails down to the length I needed.  If you are going to keep the flowers or garlands permanently on the chalkboard, I suggest to go ahead and hot glue it on.  But since I most likely will be re-using these garlands for future events, I just hung it up onto the chalkboard with garden twist ties where the nails and sawtooth hangers met and taped everything else down so it all stayed in place.  And then I just fluffed the garland to make it look full and I was all set.  Seriously though, I can't wait to start checking off that list! This whole project only costs $35!
Do you love it as much as I do?! Can you see one of these in your home? Go make one! It's so easy! I hope you have fun with a DIY project today! And if you do make something, please share it with me via Facebook. I'd love to see what you have going on, too! Until next time, stay lovely!
Jeap